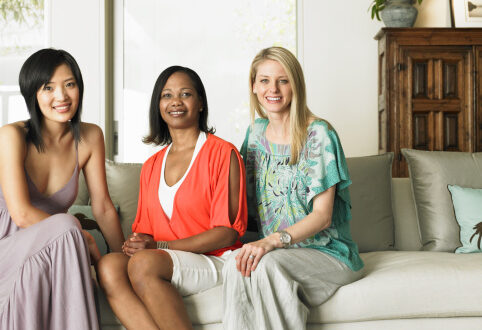 Natural Estrogens: Benefits for Postmenopausal Women
  When talking about a woman's hormones, the term "estrogen" is frequently used. Estrogens are steroid hormones present in both men and women, but at significantly higher levels in women of reproductive age. But, do you know that there are three types of estrogens found in the human body? Estriol (E3), Estradiol (E2) and Estrone (E1) each have unique biological effects, benefits and side effects. Also, the different forms of estrogen have different affinities for certain body tissues (such as the brain, breast and vagina) and therefore it is important to select the most appropriate estrogen for optimal treatment or prevention of a specific problem.
   Estriol, coined the "weaker" of the three estrogens naturally made by the human body, has significant therapeutic benefits, and is commonly used to treat hot flashes, insomnia, and vaginal atrophy; to reduce the frequency of urinary tract infections; and for skin enhancement. Recently, estriol has shown the potential to treat individuals with autoimmune illnesses, including multiple sclerosis and rheumatoid arthritis.
Due to the well-known and documented risks associated with other forms of estrogen, estriol (E3) has attracted the interest of researchers and clinicians due to its protective and clinically beneficial actions. Estriol is not metabolized into other forms of estrogen, and hence does not result in an increase in the levels of either of the other two estrogens.
  After menopause, as estrogen levels fall, many women experience thinning, drying and inflammation of the vaginal walls, clinically known as vaginal atrophy. Multiple studies have demonstrated the benefits of a vaginal tablet containing an ultra-low-dose of estriol (E3) in combination with the probiotic Lactobacillus acidophilus for the treatment of vaginal atrophy.
Our compounding pharmacists will work with you and your medical provider to accurately test the specific hormone levels in your body, determine the best treatment strategy for you and compound the necessary hormones in individualized strengths and dosage forms to meet your unique needs. Our relationship with you and your provider is ongoing, to ensure that over time your dosages are adjusted to coordinate with your natural aging process.
Talk to your health care providers to discuss compounding as a treatment option and make sure to let them know you heard about prescription compounding from Rx Unlimited Pharmacy!