October is Breast Cancer Awareness Month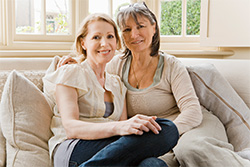 If you are a woman over the age of 40, or have had a mother or sister diagnosed with breast cancer, you may be at greater risk of developing breast cancer. Knowing your risk factor for breast cancer can help you create a health program best suited to your individual needs. Proper nutrition and exercise as well as screening with mammograms and self-exams are all important for breast health.
Many women seeking treatment for menopausal symptoms (such as hot flashes, night sweats, mood swings, depression and weight gain) will opt to use a form of hormone therapy. Certain types of hormone therapy may increase your risk for breast cancer. For example, in the Women's Health Initiative studies, researchers found that the synthetic progestin medroxyprogesterone acetate, when used in conjunction with estrogen therapy, increased the risk of breast cancer.
We alleviate the symptoms caused by the natural decrease in production of hormones by supplementing with hormones that are identical to those normally produced by the human body. Our compounding pharmacists will work with you and your doctor or nurse practitioner to test your hormone levels and determine the best treatment for you. You are unique, and our compounding pharmacy can customize your hormones in strengths and dosage forms to meet YOUR unique needs.
Visit www.nationalbreastcancer.org and share "Beyond the Shock" http://beyondtheshock.com/, a breast cancer educational resource, with friends and family. We also invite you to stop in at either of our locations today to speak with one of experienced compounding pharmacists and find out how we can help you.